In conjunction with Haywood Rescue Squad and Haywood Community College, we are pleased to announce the NCOSFM Technical Rescuer series schedule for Haywood County, NC and surrounding regions. This 120-hour series of Technical Rescuer courses are being offered separately, therefore, written testing will be delivered at the conclusion of each course.
These are study to be used for studying for class: (Click to download)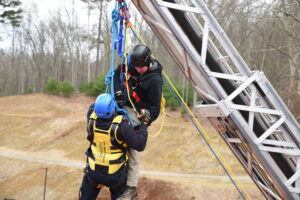 Checkout our previous NC OSFM TR Rope & General Class Photos
https://rescuenc.smugmug.com/North-Carolina-State-Fire-Marsha/NCOSFM-TR-Rope-Rescue
TR Class Photos Coming Soon!
January 2, 2020:  Check here for class announcements
Class Locations(s):
Haywood Community College; Public Safety Training Center 186 Armory Dr Clyde, NC 28721
Times:
Weekday Classes: 1800-2200 Weekend Classes 0800- 1800 (start and end times vary)
Personal Protective Equipment Needed:
Applies to practical portions: climbing helmet; Clean mechanics gloves; NFPA Class II or III life safety harness; eye protection; hiking boots w/ ankle support, long-sleeve shirts.
Meals:
Where applicable 1 hour for lunch is provided. Meals are at the cost of each student.
Lodging:
Econo Lodge; 232 Phillips Rd, Waynesville, NC 28786;(828) 246-6201

Super 6 Waynesville; 79 Liner Cove Rd, Waynesville, NC 28786; (828) 454-9667

Quality Inn West Of Asheville; 737 Champion Dr, Canton, NC 28716; (828) 648-4881
| | | | | | | | |
| --- | --- | --- | --- | --- | --- | --- | --- |
| Dates | Class Name | Location | Start Time | End Time | Start Time | End Time | Total Hours |
| Sunday, January 5, 2020 | TR Rescue Equipment | Haywood Rescue | 900 | 1200 | 1300 | 1700 | 7 |
| | | | | | | | |
| Sunday, January 12, 2020 | TR Rescue Operations | Haywood CC | 900 | 1200 | 1300 | 1800 | 8 |
| Monday, January 13, 2020 | TR Rescue Operations | Haywood CC | 1800 | 2200 | | | 4 |
| | | | | | | | |
| Friday, January 24, 2020 | TR Helo | Haywood CC | 1800 | 2200 | | | 4 |
| | | | | | | | |
| Saturday, January 25, 2020 | TR Personal Protective Equipment | Haywood CC | 800 | 1200 | 1300 | 1800 | 9 |
| | | | | | | | |
| Wednesday, February 5, 2020 | TR Health & Wellness | Haywood CC | 1800 | 2200 | | | 4 |
| Thursday, February 6, 2020 | TR Health & Wellness | Haywood CC | 1800 | 2200 | | | 4 |
| | | | | | | | |
| Saturday, February 29, 2020 | TR Rope Basics | Haywood CC | 900 | 1200 | 1300 | 1700 | 7 |
| Sunday, March 1, 2020 | TR Rope Basics | Haywood CC | 900 | 1200 | 1300 | 1600 | 6 |