I.R.B. Guide School
Inflatable Rescue Boat Guide School
October 28, 29, 30
0800-2200 hrs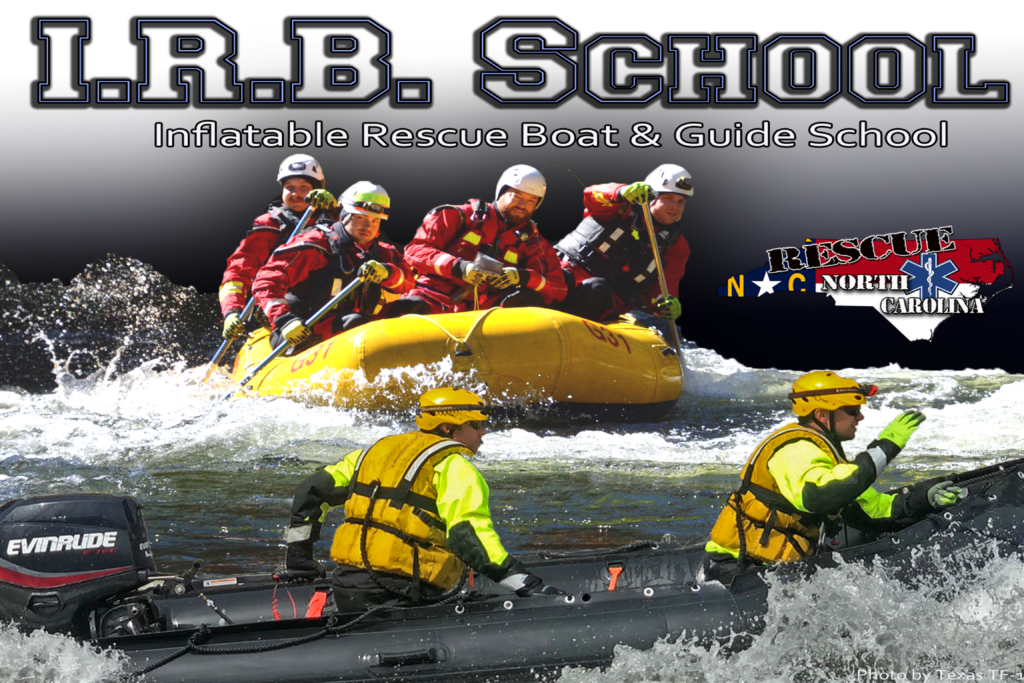 CLASS SIZE IS LIMITED TO 15 STUDENTS

MUST BE CERTIFIED TO THE SRT I / SRT ADVANCED
OR NFPA TR WATER RESCUE TECHNICIAN LEVEL
Course Overview
In an on-going effort to provide certified swiftwater rescue technicians with advanced level training. We are now offering a re-designed course for those agencies who provide raft and powered Inflatable Rescue Boat (I.R.B.) operations as a part of their water rescue services. Having a I.R.B. provides responders with a lower risk alternative towards removing victims from flooding and/or swiftwater environments where watercraft may be suitable for evacuating survivors.  Historically, few rescue teams ever receive realistic training in navigating a raft or powered craft in moving water. Guiding a raft nor operating apower rescue boat is not an easy task, it is an acquired skill set that rescuers must be proficient before attempting rescues in moving rapids or floodwaters.
The I.R.B. School provides the student with a unique perspective towards various IRB operations through lecture and hands-on training. This course also allows the student to practice their acquired skills sets during a real time scenario-based Large area search and rescue operation simulation. This course will introduced you to various surface and swiftwater environments, as well as, becoming proficient in raft guiding among various rapid classifications from class I to Class III.
This is a pilot course for 2019 and also a continuing education course for certified TR-Water Rescue or Swiftwater Rescue Technicians only. There is no FEMA credentialing nor certifications issued.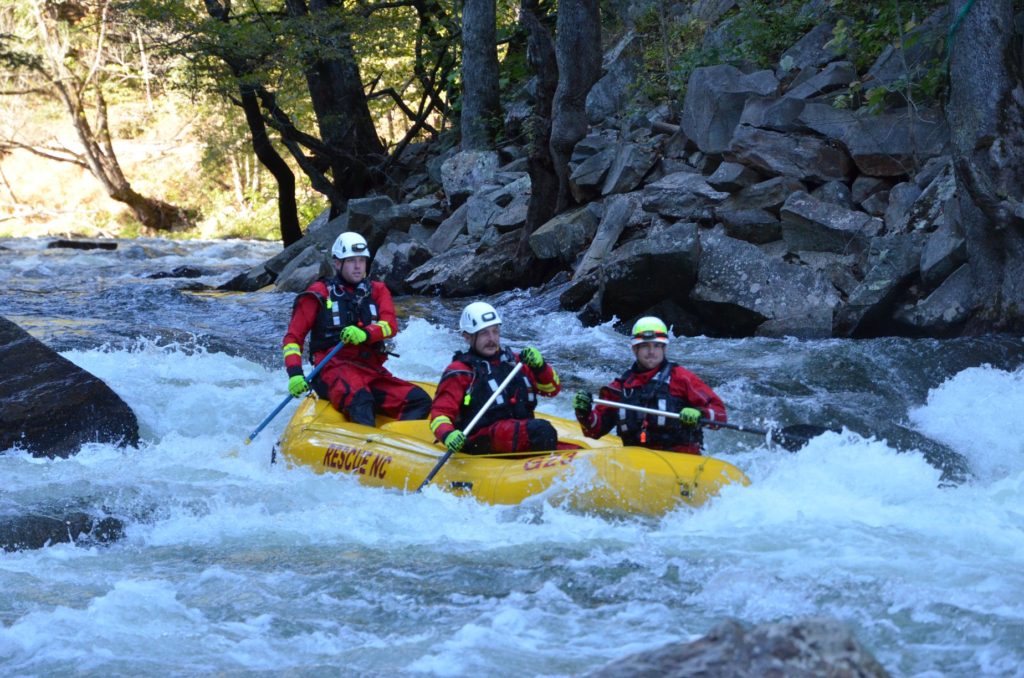 Class Details:
Students should anticipate traveling between river sites up to 50-60 miles  from the Andrews, NC region. Training loactions will vary due to river generation schedules by local power companies. This course teaches basic & advanced paddle strokes and raft guide skills sets, hydrology recognition and avoidance of common river hazards, raft and power boat ferrying, eddy-catching, crew recovery, as well as, craft up-righting.
In addition to boat operations, the fundamentals of GPS awareness, and operating as a boat crew during large-area flood search operations as a rescue task force or strike team will also be used during a real-time search & rescue scenario.
Based upon river conditions and water availability from local power companies, we are tentatively scheduling a night raft trip where students will learn the extreme conditions of guiding or operating powered craft in night conditions under a rescue mode operation. 
Upon completion, participants will feel competent in guiding class 2 & 3 whitewater and operating a powered craft in surface and swiftwater environments by the end of the 3-day course, as well as, be competent in rope rigging operations and deployment and recovering watercraft during emergency or challenging locations.
Class Info:
The syllabus for the course will incorporate the following objectives:
Types of Rafts & Powered IRB's

Raft Construction & Emergency Repairs

Boat Deployment & Transporting Practices

Inflation Considerations

River Reading and Hydrology Review

Paddling & Guiding Techniques

Boat Pins

Rescue Scenarios
Rope Ops. and Rafts

Large Area Searches 

Guiding on The River & Commands

Boat & Rope Rigging

Rescue Ops. from the raft.

Night Boat Operations

Raft Flips & Crew Recovery

GPS Awareness
Dates:

October 
28, 29, 30, 2020
Times:
0800-1800 & 2200 hrs. 
Location:
Valleytown Fire Department; Andrews, NC
Address: 
2769 Stewart Rd, Andrews, NC 28901
Itinerary:
Day #1:
Location: 
Class will meet at the Fontana Lake Boat Launch site at  the Lemmons Branch Boat Launch Site in in Tsali Recreation Area near Almond, NC off NC Hwy 28. (See map below) and will begin with IRB construction and repairs and basic surface water boat operations familiarization then move onto the Nantahala River where our paddle boat operations portion will begin.
Day #2:
We will begin at the Nantahala Rive Launch Site at the intersection of Wayah Rd. & NC Hwy. 19/74 for the swiftwater boat ops. and rope rigging portion and will begin the first of a series of raft trips and several boat-based highline systems and up-righting the IRB. Following the afternoon portion of class, a rare nighttime opportunity to learn operating or guiding an IRB at night.
Day #3:
The final day of class will be spent practicing IRB powerboat rescue operations in a moving water environment. Objectives include Bowman and Tiller Operator responsibilities. Students will also launch and deploying Power IRB's in Non-traditional methods without a boat ramp.
Due to power company water generation schedules, a location suitable for class objectives will be selected, therefore, some extensive travel may be required. 
Training Location Options:
River locations are subject to change based upon river levels or power generation schedules by local hydro
Tuckasegee

Nantahala

French Broad

Oceoee

Notley

Appalachia

Hiawasee

Nolichucky
***Therefore, Extensive travel may be required*
Prerequisites:
Students must present copies of their certifications for

one or more

of the

following

 certifications:
NFPA 1006/1670 TR Water Rescue
Rescue 3 Swiftwater &

Flood

 Rescue

Technician

 I
SRT Advanced students. Students should anticipate conducting rescues involving swimming and rafting class III or higher rapids. Some aspects of the NIMS Swiftwater Rescue Task Book will be met.
No extensive health conditions
Proof of workers compensation or personal insurance
Cost & Registration:
First Time Students: $300 USD
Equipment:
Powered Boats:
Agencies sending students to this course are requested  to bring their own inflatable rescue power boats. This is to ensure personnel are familiar with their own agency water crafts.  Although we have one powered boat we will need additional boats to provide more opportunities for boat operator training. 
Inflatable Rafts:
Rescue NC has two 8 person rafts, however, we request agencies to bring their own rafts, as well. 
PPE:
An approved USCG Type V personal flotation device (PFD)

A rock climbing or water rescue vented helmet

Drysuits or wetsuits are encouraged.

Rope or mechanic gloves for rope rescue

Waterproof Headlamp for night operations

Snacks  & water during class

Eye Protection

Clothing suitable for the environment
Lodging:
The IRB School course is a very dynamic and labor intensive class. Consider lodging in the Bryson City or Andrews, NC  regions of Western, NC.
Meals
Meals, snacks, and travel are at the expense of each student. Students must plan on lunch and possibly a supper on the river, as well.   Please bring a hydration system for river trips.