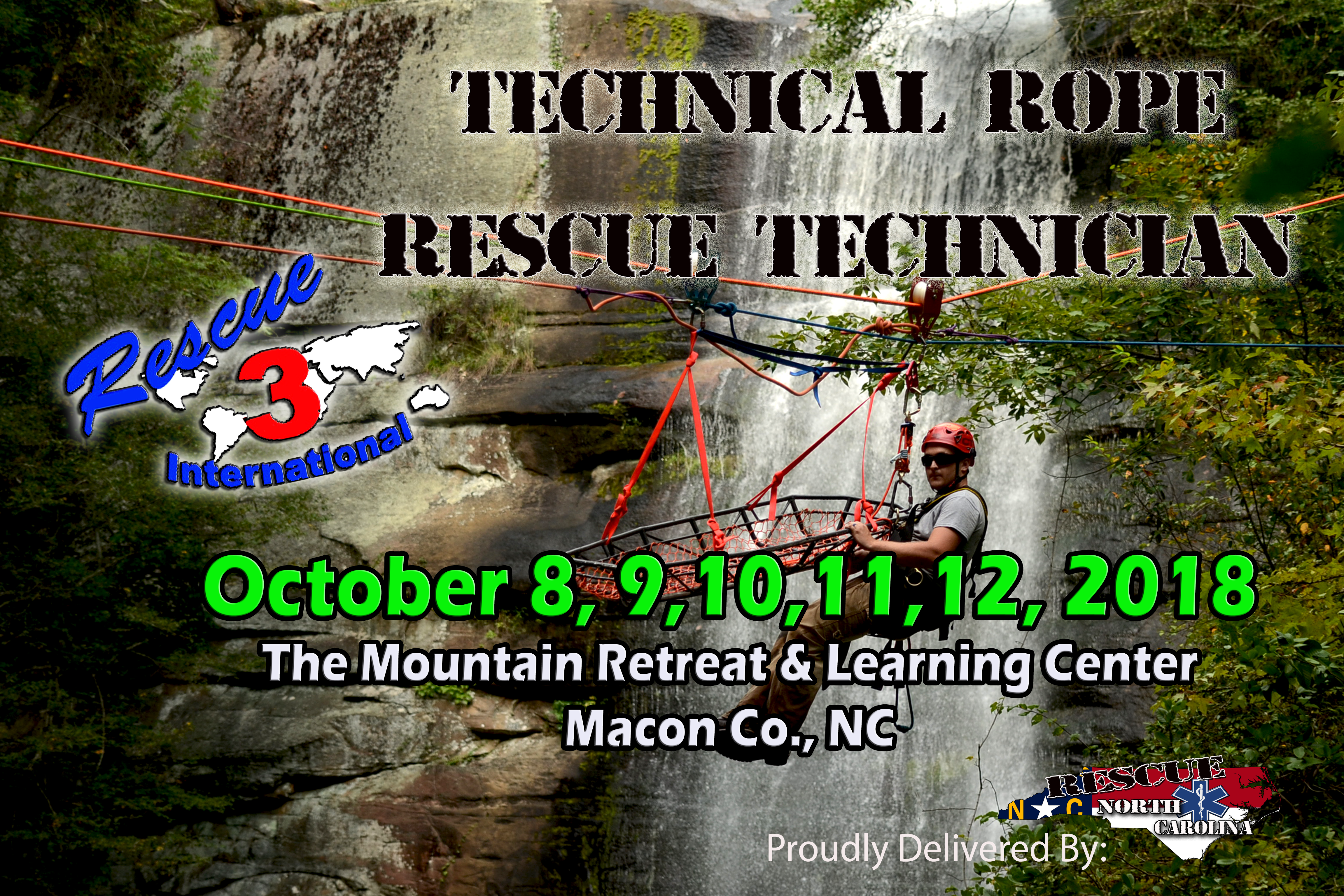 Upcoming TRR-TL Classes
 Rescue 3 Int. Technical Rope Rescue;
Technician Level (TRR-TL)
The Mountain Retreat & Learning Center;
3872 Dillard Rd, Highlands, NC 28741
October 2,3,4,5,6 2018
Learn More>>>
TRR-TL Course Overview
We are pleased to announce Rescue 3 International's Technical Rope Rescue- Technician Level (TRR-TL) course delivered within the majestic Great Smoky Mountains of Western North Carolina and Georgia . This certification course will introduce the technical rope rescue to firefighters, rescue squads, EMS, National & state park service, and law enforcement agencies. This course meets & exceeds NFPA 1006 and NIMS professional qualification standards for technical rope rescue. This five-day course consists of day and night rescue situations rescuers may encounter involving low and high angle environments. Skill sets acquired through the completion of this course will complement swiftwater rescue, confined space rescue, low and high angle rescue operations and law enforcement and military special operation needs. It is highly recommended students attending this course should have completed and certified to the NFPA 1006 Rope Rescue Operations Level training or Technical Rescue General Rope Rescue or equivalent.
---
Class Info
 The TRR-TL course is a physiologically and psychologically challenging class. Students with extensive health concerns or phobias involving heights are discouraged from attending this course. Students will be required to ascend (climb) a fixed rope and descend, as well. The terrain is often rugged and difficult to navigate.
The initial class sessions will address the fundamentals of rope rescue, new technology and equipment, and specialized techniques in rope rescue. Remaining class time involves conducting hands-on practical and scenario-based training where students apply their newly acquired skill sets into a realistic applications involving intensive low and high angle rescue skills.
This program, developed by Rescue 3 International Inc., is considered to be the premier source for rope and swiftwater rescue training. This course is an objective driven course, class times will be will promptly adhered and will dismiss when all objectives for each training date have been completed.
This course complies with NFPA 1006 and 1670 Standard for Technical Rescue , Students must perform all required skills within the course to receive NFPA Technician Level certification, students unable to perform these skills will be given the option to downgrade towards the Ropes; Operations level certification or make up the skill in another course.
Topics include:
Rope, Harness, Hardware, & Software Characteristics
Harness Suspension Pathology
Simple & Compound Mechanical Advantages
Simple & Multi-point Anchoring Systems
Primitive Rigging and Anchoring Systems (Pickett & Timer Rigging)
Patient Pakaging & Litter Management
Vertical and Horizontal Lowers & Raising Systems
Advanced Rigging Techniques & Equipment (MPD, Petzel ID, Rock Exotica Aztec Kit…)
Stranded Climber Pick-off's
Passing a knot in a Lowering System
Improvised Harnesses
Belay Systems
Ascending & Descending Fixed Rope Systems
Highline Rigging Systems
---
 Cost & Registration:
The Initial course price is $650
The  Re-certification price is $425
Payment can be made by:
Check
Invoice
Cash
Debt or Credit Card (There is a 3% processing fee for credit transactions)
Letter of Intent
Please make checks payable to and mail your payment to:
Rescue North Carolina
18780 Corradale Rd.
Charlotte, NC 28105
Please contact  Instructor Trey Smith for payment details at e-mail tsmith@rescuenc.com  or 704-507-6152
---
The Schedule(s):
| | |
| --- | --- |
| Day 1 | 0800-1800 |
| Day 2 | 0800-2300 |
| Day 3 | 0800-2300 |
| Day 4 | 0800-1800 |
| Day 5 | 0800-1800 |
Training locations may vary so students will need to provide their own transportation.
---
Equipment
Students will need to provide the following protective equipment:
An approved NFPA 1983 compliant Class II or Class III Rescue Harness
Jumpsuit/ Flightsuit/ BDU's or other garment to protect arms and legs
Leather palmed gloves for rope work  (No Fire Gloves of Extrication gloves!!)
Rain Suit or Gore-Tex coat
Clothing suitable for the diverse mountainous climate
Rugged boots suitable for hiking or climbing ropes (ankle protection)
Camera
25'-30' length of ½" Static Kernmantle Rope for Safety Lines or 1" tubular webbing.
4 Steel or aluminum Carabiners (20kn rating minimum)
Headlamp
Snacks, hydration system or water bottle during class
Synthetic Undergarment Thermal Protection (Polypropylene)
Eye Protection
Sunscreen and bug spray
A rock climbing or water rescue vented helmet
---
Lodging & Meals:
Lodging and meals for the course is at the responsibility of each student. Lodging accommodations varies between courses and training sites. Please refer to specific course locations for lodging arrangements.
Training Locations
The Rescue 3 TRR-TL course training locations varies as they may be conducted at a fire & rescue training facility or within a wilderness environment. Please refer to specific course locations for training schedule and locations.