Our custom Specialist level rescue courses are designed to provide currently NFPA certified students with advanced level training beyond the Technician Level. Our Rescue Specialist courses in Rope, Swiftwater, and Industrial Rescue are among the most challenging courses we offer. To attend the Specialist level courses all student must be currently certified to the NFPA 1006 level. Below are a few of the courses we offer…These are weekend classes with no lecture and are primarily scenario-based training sessions. 
Swiftwater Rescue Guide School
In an on-going effort to provide certified swiftwater rescue technicians with advanced level training. We are offering a new course
designed for agencies who provide raft guide operations as a part of their technical water rescue services. Having a raft provides rescuers with a low-risk alternative for removing victims from flooding environments. Historically, very few rescuers ever receive expert training in guiding a raft in moving water. Guiding a raft is not an easy task, it is an acquired skill that rescuers must master before attempting rescues in moving rapids. Experienced river guides provide a unique perspective towards non-motorized rescue boat operations. Students will be introduced to various river currents and practicing various guiding skills in class I to Class IV. Students should possibly anticipate traveling between river sites. This course teaches basic guide paddle strokes, recognition and avoidance of common river hazards, guide paddle commands, ferrying, eddy hoping, and raft recovery upon a flip. There may be one night raft trip where students will learn the extreme conditions of guiding in night conditions. Dependent upon river conditions and dam release schedule.
Students will feel confident in guiding class 2 & 3 whitewater by the end of the 3-day course. Our course instructors are seasoned rafts guides and swiftwater rescuer instructors who are also fire & rescue responders. Learn how to guide from those who respond to flood emergencies not just a river dude!
Read More>>>>
---
Swiftwater Rescue Night Operations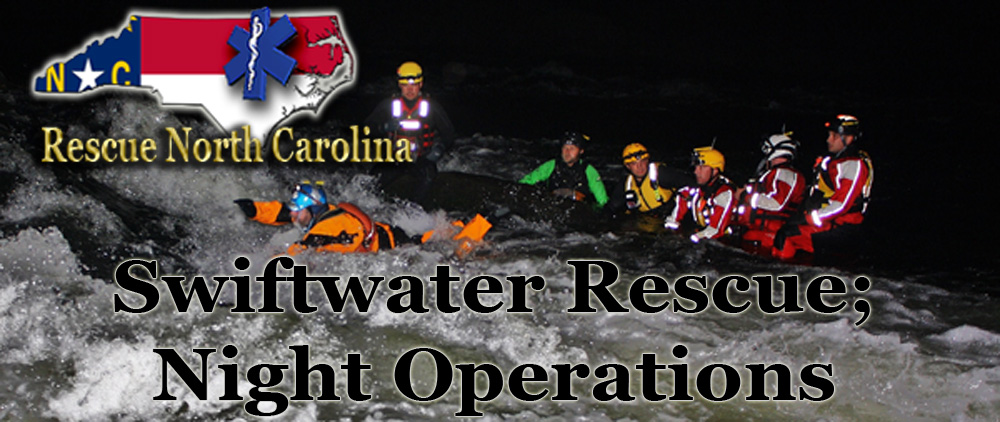 We are pleased to announce the "first of it's kind" water rescue course towards training rescuers in water rescue during night operations. Night operations is a dangerous practice and should only be conducted during active rescue situations and should not be used for recovery operations. Unfortunately, the call for help during flooding incidents doesn't always come during the daytime. Rescue North Carolina's philosophy is to train rescuers in the identical environment they are expected to perform. Our experience has demonstrated many rescuers are adequate swimmers and riggers by day but the nighttime offers a completely different perspective and can result in tragic consequences for the untrained professional.
The Swiftwater Rescue Night Operations course identifies the psychological aspects, logistical complications, and tactical problems of operating along a river or flood incident where the limited lighting plays a major factor in rescue operations. Typically, responders discover they are ill-equipped for communications, identification of teams, comprehending directions become complicated without the ability to see handle signals, gestures, whistle commands, or other seemingly insignificant tasks. This course targets certified swiftwater rescue team personnel. Technician Level rope rescue certification will take priority in being accepted into the course.
This class is being offered over two (2) over-night training sessions. That's right folks! 10+ hours of night work. We will start our operations at sunset and  finish around 2am. 
Students will see the river like they never have imagined. Rescue North Carolina has been delivering night operations training for 5 years during our Rescue 3 SRT Advanced courses. This course will also explore the lighting or lack of lighting, illumination, and show how reflectivity can be detrimental or advantageous to your rescue operations.
Read More>>>>
---
Flood-Rescue Specialist Workshops (FRSW): (Continuing Education)
"Training Beyond the Technician Level" 
16-Hours; (2)- 8 hour sessions
We pride ourselves in offering several specialist courses relating to swiftwater & flood rescue for certified Water Rescue Technician responders as a way to refresh & expand upon previously acquired rescue skill sets. In 2013, we began delivering the Flood-Rescue Specialist Workshops (FRSW) for responders as a way to provide a technical rescue continuing education program without the cost of re-certifying. The FRSW combines the skills sets acquired during previous rope, boat, and swiftwater rescue training into a 16-hour real-time scenario-based rescue training experience. This class is entirely hand's-on practical with no lecture sessions.  Students considering attending must be currently certified to NFPA 1006 Technician (Level II) standard in water and rope.
Contact Us For Pricing
Flood / Swiftwater Rescue Team Development (FSRTD)



Is your agency considering developing into a local or regional flood/swiftwater rescue team? Rescue North Carolina LLC. can assist you in the typing process to become a FEMA compliant flood/swiftwater rescue team. Let us guide your agency into developing specialized rescue asset within your region by allowing us to work alongside your agency to create a customized a water rescue response team cache' and implementation and delivery of a continuing education program. Our services also include delivering training, testing, and evaluating the readiness of you special rescue operations team.
Contact us For Pricing
 


Flood / Swiftwater Rescue Team Training 



Scheduling training for your technical rescue team can be overwhelming. Let us assess your training needs and schedule your agency's specialized annual or semi-annual training program. Our instructors will work closely with your training staff to schedule and develop a comprehensive training program on an annual, semi-annual, or quarterly basis.
Contact Us For Pricing

Flood / Swiftwater Team Skills Assessment 

Occasionally, teams that were once developed into proactive technical swiftwater rescue teams have evolved into  less than stellar performs as funding for training comes and goes. Operating on a shoestring budget for training results
Contact Us For Pricing