Rescue 3 International Preferred Training Provider
Since 1996, we have proudly served as a Preferred Training Provider with Rescue 3 International. Whether you are a recreational enthusiast, fire/rescue, or military special operations specialist we have a course for you. Because we offer multiple courses throughout the year, this keeps our class sizes to a minimum of less than 12 students. This allows us to deliver a more enjoyable training experience and reduces the instructor to student ratio for a more one-on-one interaction. We pride ourselves on scheduling courses around complicated shift schedules and can accommodate last minute class requests due to military deployments or public safety staffing constraints.
Professional Swiftwater / Flood Rescue Courses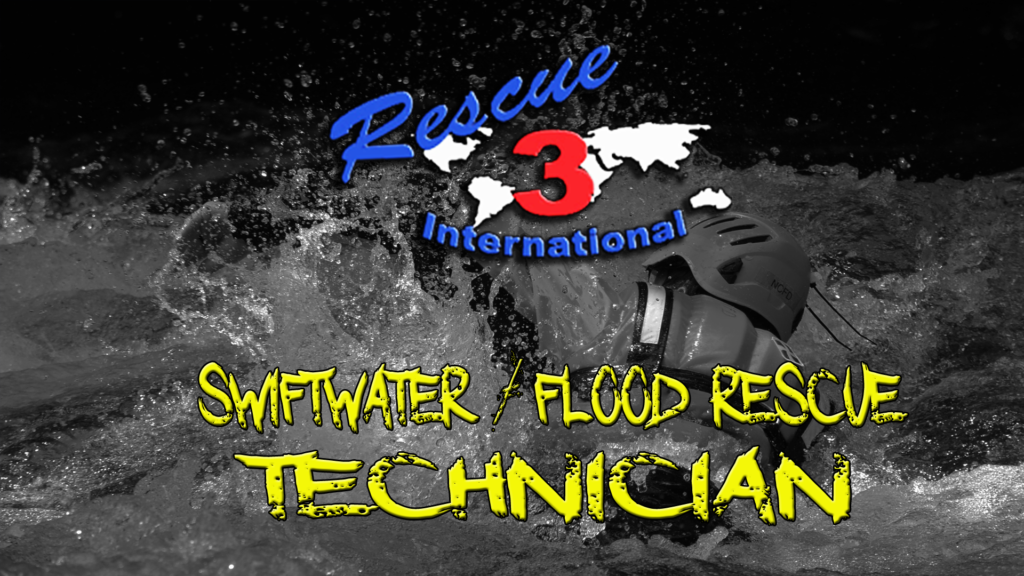 Swiftwater & Flood Rescue Technician (SRT I)
This introductory course is the first of three courses required to obtain NFPA 1670 requirements for water rescue. The SRT 1 is an intensive, three-day class (24-30 hours) that includes one day of classroom instruction followed by two days of developing and practicing water rescue skills. The SRT I focuses upon self-rescue and rescue swimmer skill sets, hydrology, environmental hazards, basic rope rigging and PPE, shore-based, boat-based, and in-water contact rescues.
The Rescue 3 International SRT I course addresses various aspects of swiftwater and flood emergencies with a focus upon rescuer safety and team efficiency during these types of emergencies. This course is a physically intensive, 24-hour class that includes classroom instruction followed by two days of developing and practicing water survival & rescue skills.
Emphasis of this course is based upon self-rescue skills and meets and/or exceeds the skills taught within N.F.P.A. 1006 Awareness and Operations for swiftwater rescue. Other topics include an in-depth analysis of hydrology, handling hazards and obstacles, rescue equipment familiarization, utilizing basic rope systems, conducting in-water contact rescues, and much more. Information from this course is applicable to anyone confronted with potential water rescue, as well as, the possibility of self-rescue.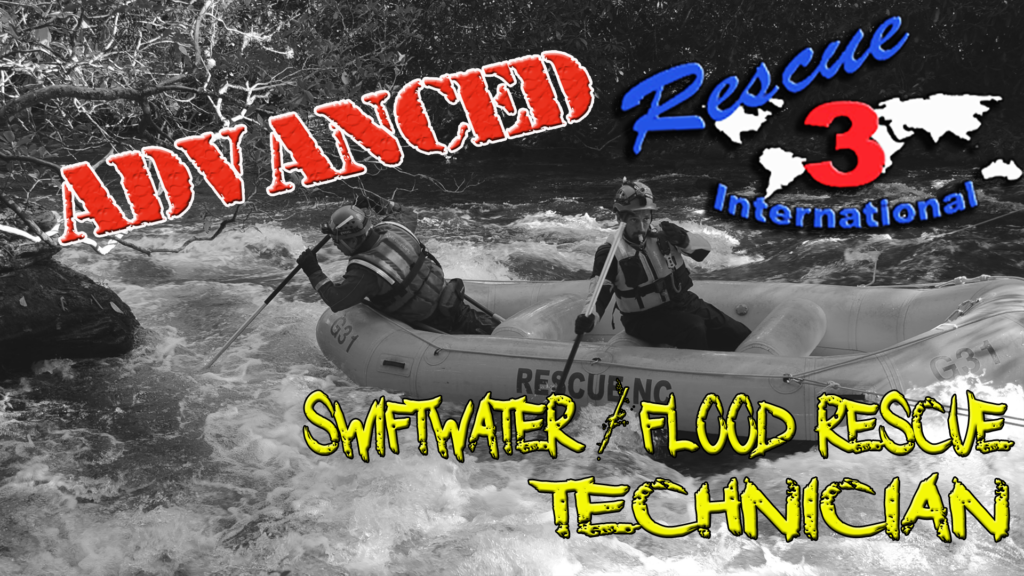 Swiftwater & Flood Rescue Technician Advanced (SRT A)
SRT Advanced is an intensive and physically demanding course! The initial emphasis of this course is on self-rescue skills and covers all of the skills taught SRT Unit I. In addition, other skills include:
Rescuing and extricating an accident victim from the water.

Rescue swimming in swiftwater and maneuvering so as to negotiate river hazards and obstacles at various water levels.

Navigating inflatable boats by paddle and on tether .

Understanding swiftwater rescue operations organization and the response of the victim.

Utilizing rope rescue gear applicable to swiftwater rescue.

Crossing shallow and fast-moving water utilizing various techniques.

Crossing deep, fast-moving water utilizing basic climbing gear, small boats, and combinations of the two.

This course provides the fundamentals of swiftwater rescue and is recommended for anyone who may be called upon to affect in-water rescues.
This course is the third class needed for personnel wanting to meet the requirements of the NFPA 1670 Standard and the NFPA 1006 Standard at the Technician level for water. This course takes the student who has completed Swiftwater Rescue Technician Unit 1™ (SRTU1) beyond the emphasis of self-rescue and further concentrates on the victim's rescue. This is done by integrating the SRT I techniques into more difficult technical swiftwater situations.
SRTA is taught over 3 days with four to six hours of classroom followed by three and one-half days of hands-on skill development. There is a mock night river rescue scenario, as well as, a raft trip and swimming session which allows rescuers to fine tune their guiding skills and advanced swimming techniques in a higher degree of water classifications. Night rescue swimming and night rafting operations may be conducted within this course!!! Topics covered include pre-planning; rescue and recovery management; specific problems which arise with floods; rescue from class IV-VI whitewater; raising/lowering systems; stokes litter management; cliff picket anchors, "A" frames, tripod setups; a night mock Search and Rescue (SAR) problem; and, many other subjects.
Rescue 3 Industrial Water Safety & Rescue Courses: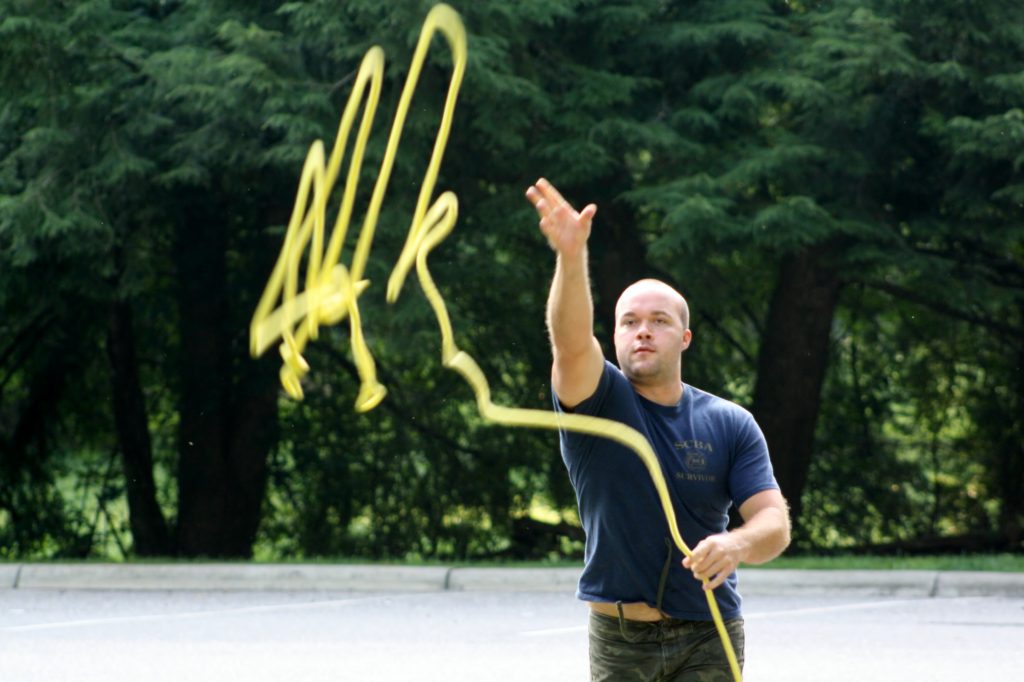 Lifejacket Competent User (LJCU)-6 hours
Industries who have employees who must work in close proximity to water sources are required by OSHA1926.106 to provide life jacket and water rescue capabilities. In addition, those employees should receive safety training & rescue techniques in the event a rescue must be conducted. When people operate in the warm zone at a water operation & rescue incident, it is usually not intended they will enter the water. This course provides the student with the hazards and training for rescue and dynamics water sources (i.e. lakes, ponds or rivers).
Safe Working Near Water (SWNW)-4 hours
A classroom-based course, that looks at the hazards and risk associated with inland (lakes, canals, rivers) and coastal water. It looks at basic control measures and safe working practices that can be introduced, including types of PPE and their use. The SWNW course is designed for industry, civil engineering, and other workers near water. The comparable course for those supporting rescue teams is Water and Flood Awareness (AWR).
Co-Worker Rescue from Water – Basic (CWRWB)-16 hours
This course providers the knowledge and techniques to allow employees to provide bank-based rescue cover for their colleagues working next to basic water environments (eg small lakes, canals, sheltered harbors, and marinas where use of a powered safety boat is not required). The equivalent course for professional rescue teams is our Basic Water Rescuer (BWR) course.
Co-Worker Rescue from Water & Basic and Moving (CWRWBM)-24 hours
This course is designed to provide students with the requisite knowledge and needed to allow employees to provide shore-based rescue standby for their colleagues working next to static & moving water environments. (inland rivers, confined tidal flows) where use of a powered safety boat is not required.
Flood Worker Safety (FWS)-8 Hours
This one day course assists organizations who's workers may work around flood water, such as road contractors, storm water contractors, flood engineers, and vehicle break down services. We still advocate that the public should never drive in flood water, but while the public hopefully stay indoors during flood events, many critical services such as storm water, roads and other utilities still have to operate and do so as part of mitigating the flooding event. Such critical services need basic training to work safely around flood water.
This course has half a day in the classroom discussing safety planning, working safely around flood water, flood water features and hazards, vehicles in water safety and escape methods, personal protective equipment, special hazards (aqueducts, manholes etc), medical considerations, decontamination, communications and incident management. The second part of the day is spent in moving water (grade 1-2) and covers how to use throwbags, wading/crossing techniques, and survival swimming. This course is a must for any employee or volunteer working near or in flood water.
For organizations that have a higher risk such as hydrologists, dam operators, remote/lone workers etc, we recommend our two day Flood Operations course that allows for more customization including wader safety, more advanced rescues and practicals in higher water flows (grade 2+).
Flood Operations (FO)-12 hours
The Flood Operations course was designed to provide emergency planners and emergency workers with the necessary knowledge and techniques to enable them to assess and work in flood environments. Flood Operations is perfect for those who will be working in heavy flood conditions, such as hydrologists, dam workers, road workers, and utilities repair workers. The course is a mixture of theory input and in-water practical sessions.