Rescue 3 Swiftwater Rescue Technician ADVANCED

This is the 2nd of 3 courses needed to fulfill the NFPA 1006 & 1670 standard for Swiftwater & Flood Rescue
As you scrolldown the page, you will find information on class dates & times, itinerary, lodging info, class locations, equipment needs, meals, and a brief history of the Nantahala River. To register, please click the link provided beside the class picture. This will provide a point of contact registration form so details can be mailed to you prior to the beginning of class. If multiple students from one agency are attending, please register everyone individually from this registration, as well.
SRT Advanced Course Overview

We are pleased to announce the offering of the Rescue 3 International course to any currently certified SRT Unit I graduates.
In an effort to deliver swiftwater and technical rescue throughout the Southeastern United States, we are pleased to announce the offering of the Rescue 3 International Swiftwater & Flood Rescue Technician ADVANCED (SRT A) course to any fire & rescue, law enforcement, military, industrial or recreational provider. The Rescue 3 International SRT A course buidls upon previously acquired skills sets in our SFRT course but develops candidates from team members into team leaders.
The skills sets acquired within this course challenge candidates in higher degree rapids, night operations, aggressive rescue swimming techniques, Raft Guide operations, Search Operations, Advanced Rope Operations and and pre-planning and disaster deployment exercises. This class is the third of three classes needed for personnel desiring to meet requirements of the NFPA  1006 Standard at the Technician level for water rescue.
The SRT Advanced course is considered an advanced level course for strong swimmers, proficient rope riggers, and senior-level rescue technicians. It is a physically & psychologically challenging class, candidates MUST be able to proficiently swim and raft class II & III currents during day and night operations.
SRT Advanced Class Info  

The SRT A course is an objective driven course, class times will be promptly adhered and will dismiss when all objectives for each training date have been completed. There are two scheduled night sessions that extend to around midnight both nights.
Attendance to all class sessions is required in order to receive full certification.
Within this course, students will be taught the following:
Conduct rescue swimming in Class II & III rapids
Night Operations involving rescue swimming, throwbags, rigging, and boat operations.
Using new technology and techniques in swiftwater rescue operations.
Advanced techniques involving in-water, boat, and rope rescues.
Managing and conducting a real time river search scenario.
Advanced rope operations and low head dams.
Advanced hydrology
Introduction Raft Guide operations. (Raft Trip)
Raft guide training in reading and navigating rivers and flooded channels.
Advanced rope operations
---
Itinerary & Locations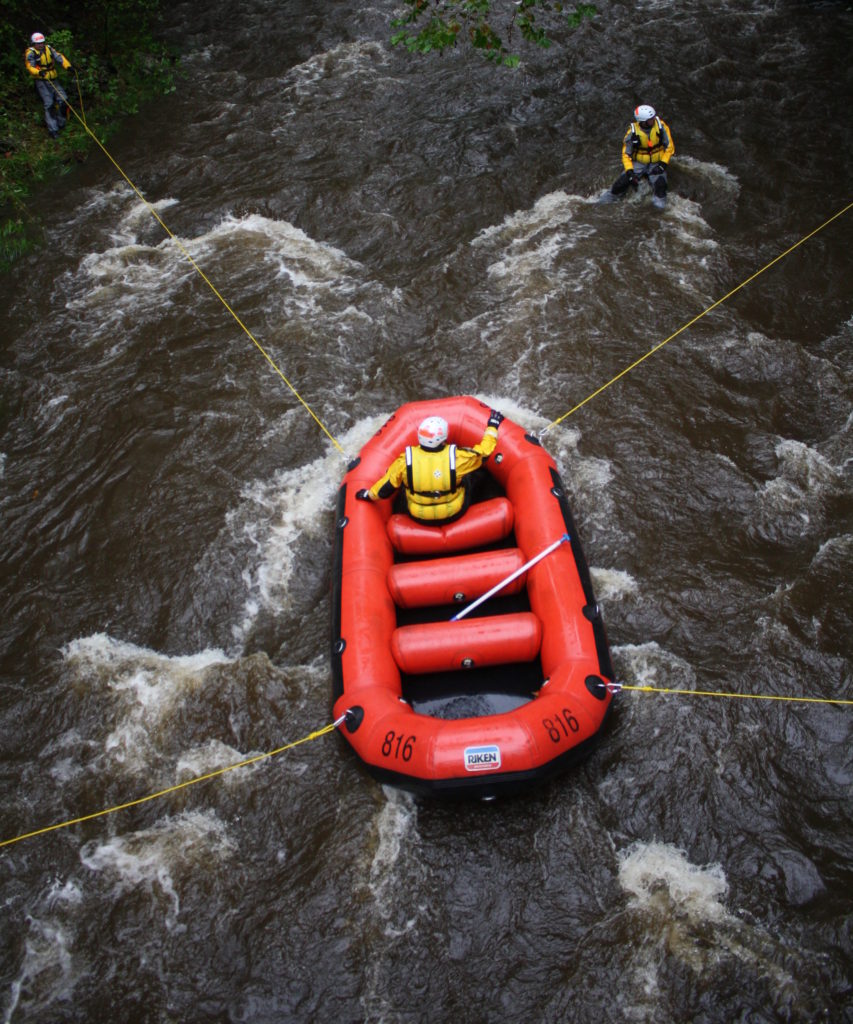 Day #1: River Day
Where: Nantahala River Launch Site
When: 1900-midnight
Itinerary: Night Rescue Swimming & Night Search Operations

Day #2: River Day
Where: Nantahala Launch Site
When: 0900-midnight
Itinerary:
Raft Guide Skills; Rescue Swimming; Scenarios; Night Raft Operations

Day #3: River Day
Where: Nantahala Launch Site
When: 0900-1800
Itinerary:
Rope Rescue Operations; Scenarios; Class 3 Swim
---
Meals:
All meals are at the responsibility of the students, meals will be on the river. **The class may opt to have lunch and supper catered from our local sponsor The Filling Station Deli for Day 2 & 3 to avoid transporting personal meals along the river.  
Cost is $10 per meal.
Includes: Hoagie Style sandwich (Hot or cold sandwiches are always fresh); chips; large cookie; tea

Day #1:

Supper is at the conclusion of class around 7 pm.
Day #2:

Breakfast -On Your Own;
Lunch- Bring bag Lunch;
Supper; Class Supper
Day #3:

Breakfast -On Your Own;
Lunch- Bring bag Lunch;
---
Equipment
An approved USCG  Type 3 or Type 5 personal flotation device (PFD) (Type 5 is preferred)
A rock climbing or water rescue helmet. (Helmet must haves holes for venting water)
Drysuits or Wetsuits (5mm or thicker wetsuits) are encouraged.
Synthetic Undergarment (Polypropylene for Drysuits; Thicker the warmer)
Neoprene gloves for thermal protection
River boots with ankle support (River shoes or surfer shoes will not provide enough protection)
Socks; Neoprene or wool thermal protection are suggested.
Clothing suitable for the diverse mountainous climate
Snorkel & Mask
Headlamp
Optional Equipment:

Swim Fins
Neoprene Skull Cap
River Knife
Dry Bag
Rescue North Carolina reserves the right to refuse any equipment not compliant with industry safety standards or not meeting safety inspection guidelines. 
---
Prerequisites:
Students should have completed and be certified as:
Certified to the Rescue 3 Int. SRT Unit I level within 3-5 years.
Non-Rescue 3 certifications are no longer accepted.
NFPA 1006 Rope Rescue Technician
(At instructors' discretion)
No extensive medical condition
(heart problems, obesity, back problems…)
Moderate to strong swimming ability
Must be 18 years old
Health Insurance or Worker's Compensation coverage
---
Price:
The Initial course price is $375
The  Re-certification price is $250
Please make checks payable to and mail your payment to:
Rescue North Carolina LLC
18780 Corradale Rd.
Charlotte, NC 28105
Please contact  Instructor Trey Smith for payment details at e-mail tsmith@rescuenc.com  or 704-507-6152
---
 Lodging:
Lodging for the course will be not be provided. However, we may secure rooms at the Nelson's Hideaway campground and cabins if you are interested.
Students will be responsible for their own lodging.
Nelson's Nantahala Campground 1-800-936-6649 ( approx. 3 miles from training site)
Microtel  Inn (Bryson City, NC)  1-828-488-7900 (approx. 20 miles from training site)
Nantahala Cabins 1-877-488-1622 (approx. 10 miles from training site)
The Cabins at Nantahala 1-888-447-4436 (approx. 9 miles from training site)
Sleep Inn (Bryson City) 1-828-488-0326 (approx. 20 miles from training site
Falling Waters Group Lodging 1-800-451-9972 (approx. 14 miles from training site)
---
Directions to River Location:
River training will meet in the parking lot of the Nantahala River Commercial & Private Boat Launch site located at the intersection Hwy. 74 and Wayah Rd. near Topton, NC. Travel distances vary depending upon lodging locations to the river.
Topton, NC-10 minutes
Andrews, NC- 20 minutes
Bryson City, NC- 30 minutes
Cherokee, NC- 45 minutes
Nantahala River Launch Site Map
---
About the Nanty…

River Temps:
Jan.-Apr.        34-37 degrees (F)
April-Sept.      36-42 degrees (F)
Sept.-Nov.      39-47 degrees (F)
Air Temps:
Jan.-Apr.        10's-40's degrees (F)
April-Aug.       20's-90's degrees (F)
Sept.-Nov.      30's-80's degrees (F)
The Nantahala River is a river in western North Carolina in the United States, within the Nantahala National Forest, and near the Great Smoky Mountains National Park. Two-lane U.S. Highway 19/74, once part of the Trail of Tears, runs along the river, picnic areas dotting the route. The River rises near the border of Georgia and North Carolina, close to the Southern Nantahala Wilderness and the Appalachian Trail. It empties into the Little Tennessee River at Fontana Lake. The word Nantahala is Cherokee and means "Land of the Noonday Sun". The river runs through a narrow and steep gorge where in some areas the sun reaches the ground only when it is directly overhead during the middle of the day.
Upper Run (Cascades)
The upper section of the river extends from the Nantahala Dam to the Nantahala Powerhouse just upstream of our training site.
The uppermost section just below White Oak Falls is known as the Nantahala Cascades and is an extremely steep and challenging whitewater route. Upon reaching the bridge, the river becomes the Upper Nantahala and flattens out to become a solid Class III-IV run. The regular Nantahala River flow is diverted through a penstock controlled by Duke Energy, so the only water normally flowing through this section comes from tributaries like Dick's Creek. However, during periods of very wet weather, or the rare long-term outage at the powerhouse the river flows full. This section of the channel is narrow and features several Class 4 & 5 rapids.
In the Winter months, the Upper Nantahala is maintained as a delayed-harvest trout fishery from the mouth of Whiteoak Creek downstream to the Nantahala Powerhouse. The state of North Carolina stocks approximately 10,000 Brown, Rainbow, and Brook Trout annually in the upper river on top of an already existing population of stream-born Rainbow and Brown Trout.
Lower Run
This is the section that can be rafted and is 8 miles long and has Class II and III rapids. It extends from the Nantahala Powerhouse to the town of Wesser.  Two launch sites provide access. The main access is just downstream of the Nantahala Powerhouse and upstream of "Patton's Run". The other is at the Ferebee Memorial Picnic Area near where US 74 crosses the river. There are two take-out points, one above and one below "Upper Nantahala Falls." Notable rapids include "Patton's Run," "Quarry," "Whirlpool," "Surfers," "Bulls Run," and "Upper Nantahala Falls." Just beyond the main take-out point in Wesser lies Lower Nantahala Falls, or Wesser Falls, which drops off at about a 45 degree angle with many sharp rocks. Immediately after this point the Nantahala flows into Fontana Lake.
The flow rate of this section of the Nantahala is dependent on releases from Nantahala Lake, which is controlled by Duke Energy. The Nantahala dam is a diversion dam; the water that normally flows through the river is diverted through a 5.5 mile penstock before flowing through the Nantahala Powerhouse and back into the original river channel far downstream. The river is "on" when Duke Energy is generating electricity and releasing water. From late spring to early fall Duke Energy follows a regular release schedule[4] to help support commercial rafting.
The opening of the main pinstock is near the bottom of the Nantahala dam, and is underground for most of its length. Because of this the discharged water is always at or near the average groundwater temperature, which in this region is in the mid 50s (F).