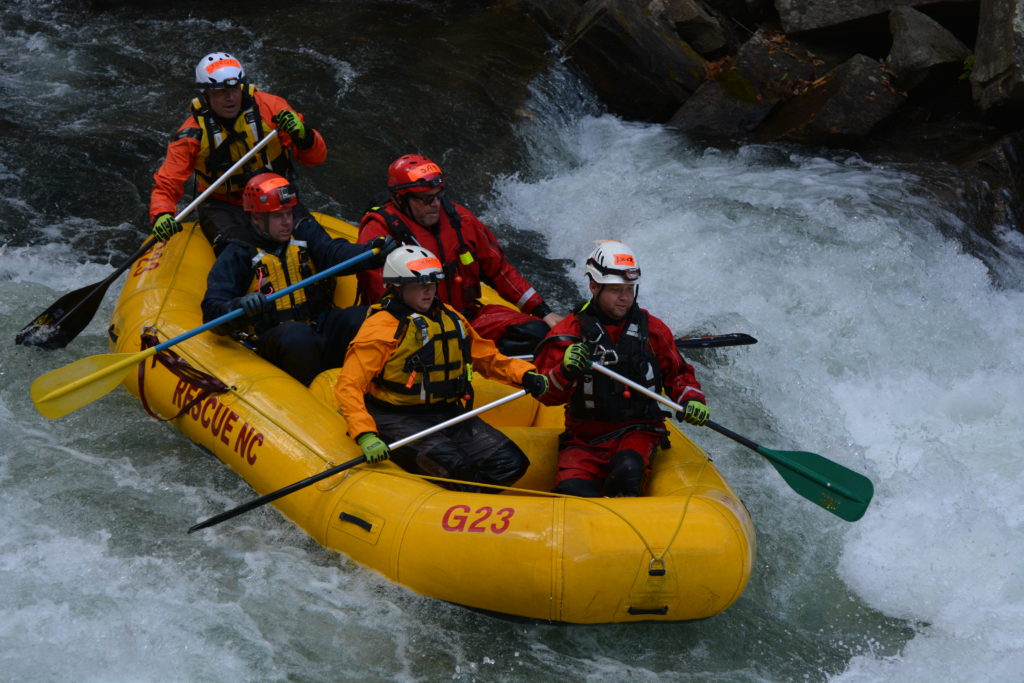 Course Overview
In an on-going effort to provide certified swiftwater rescue technicians with advanced level training. We offer a new course designed for those agencies who provide raft operations as a part of their water rescue services. Having a raft provides rescuers with a lower risk alternative for removing victims from flooding environments. where powered watercraft are not applicable.  Historically, few rescue teams ever receive  training in navigating a raft in moving water. Guiding a raft is not an easy task, it is an acquired skill set that rescuers must be proficient before attempting rescues in moving rapids or floodwaters. We provide the student with a unique perspective towards non-motorized rescue boat operations. Students will be introduced to various rivers levels and guiding along rapid classifications from class I to Class III or IV. Students should anticipate traveling between river sites. This course teaches basic guide paddle strokes, recognition and avoidance of common river hazards, guide paddle commands, ferrying, eddy-catching and hopping, and raft recovery upon a flip. In addition, students are taught the fundamentals of  wide area search operations as a boat a strike team.
There will be one night raft trip where students will learn the extreme conditions of guiding in night conditions. 
Students should feel confident in guiding class 2 & 3 whitewater by the end of the 3-day course. Our course instructors are seasoned rafts guides and swiftwater rescuer instructors who are also fire & rescue responders. Learn how to guide from those who respond to flood emergencies not a river dude!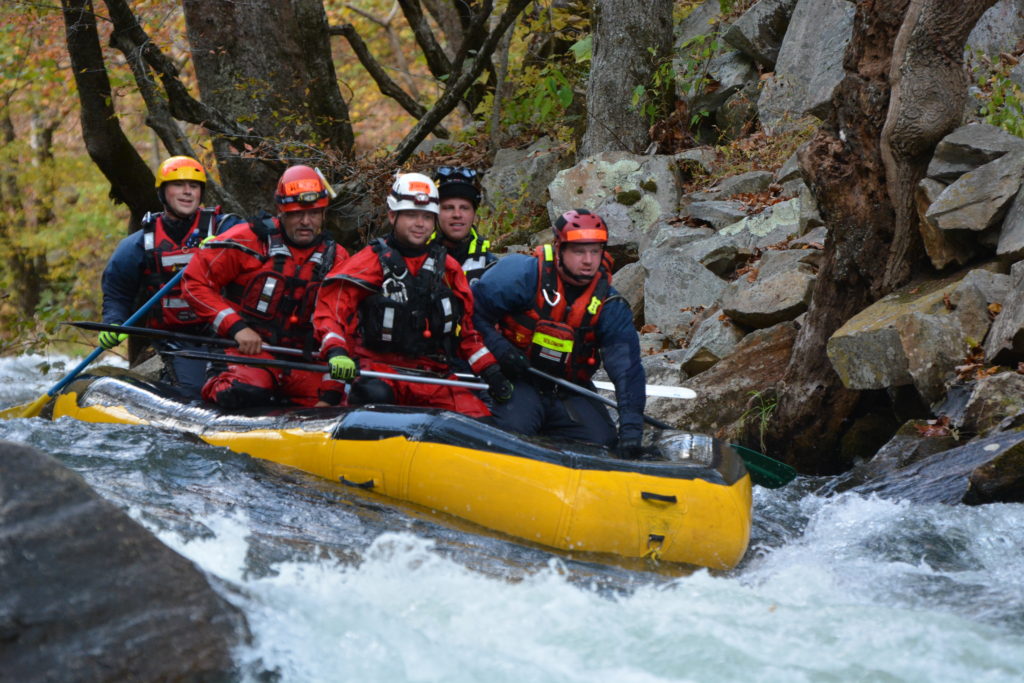 Class Info
The syllabus for the course will incorporate the following objectives:
| | |
| --- | --- |
| | |
| Raft Construction & Repairs | |
| Boat Deployment & Transporting Practices | Rescue Ops. from the raft. |
| | |
| River Reading and Hydrology Review | Guiding on The River & Commands |
| Paddling & Guiding Techniques | |
| | |
| | Raft Flips & Crew Recovery |
Lecture:
Class will meet at the Nantahala River Put in loacted at the intersection of Wayah rd. & NC Hwy. 19/74 for the lecture portion and will begin the first of a series of raft trips for the entire course for extensive practice in basic guiding skills. Throughout the following days, we may be traveling to other rivers for additional aspects of the training.
River Location Options:
River locations are subject to change based upon river levels or power generation schedules by Duke Energy or TVA.
Tuckasegee
Nantahala
French Broad
Oceoee
Nolichucky
***Therefore, Extensive travel may be required*
Prerequisites
Currently certified TR Water Rescue,  Rescue 3 SRT I's or SRT Advanced students. Students should anticipate conducting rescues involving swimming and rafting class III or higher rapids. Some aspects of the NIMS Swiftwater Rescue Task Book will be met.
No extensive health conditions
Proof of workers compensation or personal insurance
Cost & Registration:
North Carolina Responders: $200
Out of State Responders: $300
The Schedule:
(All river trips are projected to be conducted on the Nantahala River unless River flows or power generation needs cannot be met and requires re-location)
Day #1: Lecture & Raft Trip #1
Day #2: Raft Trip #2 & 3  & 4 0800-2300
Day #3: Raft Trip #5 & 6 0800-1800
Equipment
Agencies sending students to this course will need to bring their own Inflatable whitewtaer raft with a minimum 4 chambers with paddles.
Students will need to bring to class:
An approved USCG Type V personal flotation device (PFD)

A rock climbing or water rescue vented helmet

Drysuits or wetsuits are encouraged.

Rope or mechanic gloves for rope rescue

Waterproof Headlamp for night operations

Snacks  & water during class

Eye Protection

Clothing suitable for the environment
Lodging:
The Swiftwater Rescue Guide School course is a very dynamic and labor intensive class. Consider lodging in the Bryson City or Andrews, NC  or Cherokee tribal regions of Western, NC.
Meals, snacks, and travel are at the expense of each student. Students must plan on lunch and possibly a supper on the river, as well.   Please bring a hydration system for river trips.