Inflatable Rescue Boat (I.R.B.) Guide School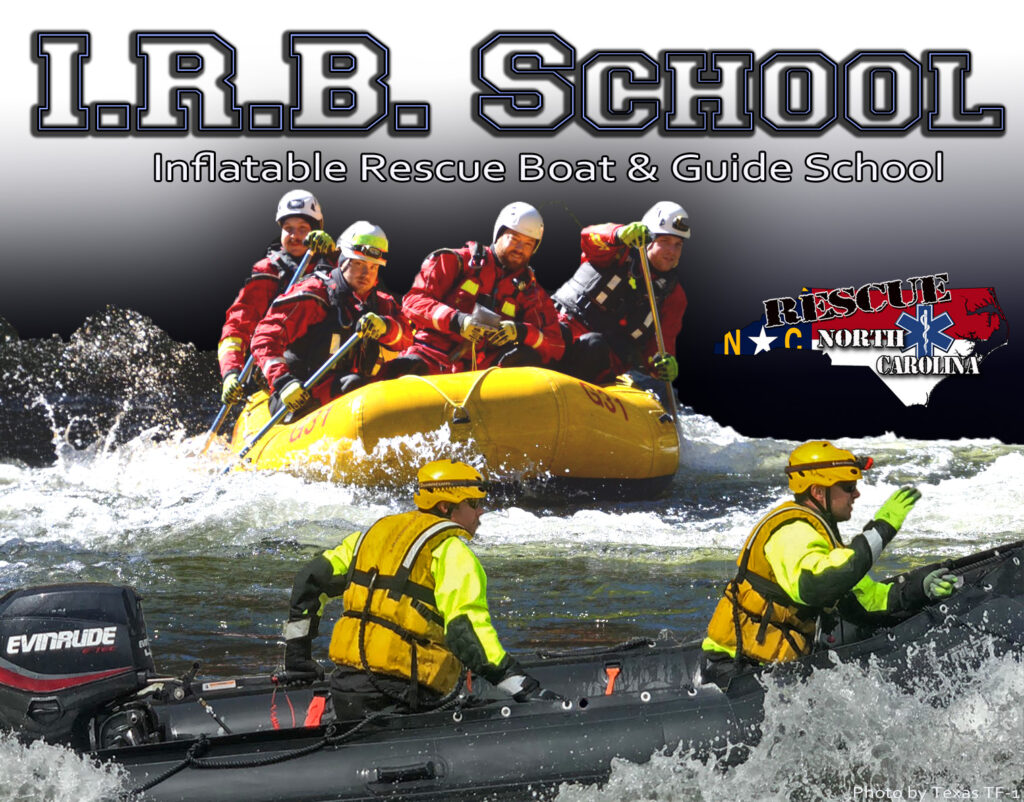 In an on-going effort to provide certified swiftwater rescue technicians with advanced level training. We are now offering a re-designed course for those agencies who provide raft and powered Inflatable Rescue Boat (I.R.B.) operations as a part of their water rescue services. Having a I.R.B. provides responders with a lower risk alternative towards removing victims from flooding and/or swiftwater environments where watercraft may be suitable for evacuating survivors.  Historically, few rescue teams ever receive realistic training in navigating a raft or powered craft in moving water. Guiding a raft nor operating apower rescue boat is not an easy task, it is an acquired skill set that rescuers must be proficient before attempting rescues in moving rapids or floodwaters.
The I.R.B. School provides the student with a unique perspective towards various IRB operations through lecture and hands-on training. This course also allows the student to practice their acquired skills sets during a real time scenario-based Large area search and rescue operation simulation. This course will introduced you to various surface and swiftwater environments, as well as, becoming proficient in raft guiding among various rapid classifications from class I to Class III.
This is a pilot course for 2019 and also a continuing education course for certified TR-Water Rescue or Swiftwater Rescue Technicians only. There is no FEMA credentialing nor certifications issued. 
Courses We Offer By Subject

2019 Rescue 3 International Courses

2020 North Carolina State Fire Marshall's Office Courses
Currently Being Scheduled

2020 Rescue Specialist Courses Currently Being Scheduled
Technical Rescuer; Vehicle Rescue Series; Haywood County, NC (Junaluska Fire Dept.)
Members of the Junaluska and surrounding regions of Haywood County, NC completed their 64-hour Vehicle Rescue Technician course throughout the months of March and April.
Technical Rescuer Series; Haywood County, NC (Junaluska Fire Dept.)
Throughout the bitterly cold months of December through February, members from the Junaluska Fire Depart and surrounding regions of Transylvania, Buncombe, Swain, and beyond braved brutally cold temperatures to complete their NCOSFM Technical Rescuer General Series at Haywood Community College Public Safety Center. Comprised within their training included Rescue Operations, Basic Ropes, Ascending and Descending a fixed rope and stranded climber pick-off's. IN addition, the participants learn various aspects of natural and artificial high directional anchors, including the use of an aerial and ground ladders. The course also included the use of new multi-purpose rescue devices such as the SMC Terradaptor; Aztek Mechanical Advantage pack, the CMC MPD, as well as, the Petzl MPD. New techniques such as twin tensioned rope systems and the long tailed interlocking bowline were just a few of the advanced techniques this group enjoyed learning. 
2018 Special Rescue Rigging Operations Exercise 
During the month of December 2018, twelve rescue specialist from across the Carolinas participated in our 1st Annual Special Rescue Rigging Operations Exercise throughout the mountains of the Great Smokies in Western, NC. This rope specialist course is open to all certified NFPA Rope Rescue Technician students. The course is offered solely as a scenario-based training exercise that allow students to operate as a deployment task force rescue team and manage and conduct high-risk  rescue problems within urban, industrial, and wilderness environments (including night operations).

Our scenarios included:
Artificial High Directional Configurations

Twin Rope (Mirrored Rope Systems)

Advanced Rigging Techniques

New Technology Rope Devices

Multi-Purpose Descent Control Devices

Confined Space Rescue

Elevator Shaft Rescue

Wilderness Rescue

Industrial Rescue

Tower Rescue

Waterfall Rescue

Artificial Anchors
TR; Water Rescue Class Video;
Swain County, NC October 2018
Checkout this great video produced by one of our students Skyler Mcevoy following our 48 hr.  Technical Rescuer; Water Rescue course in Western, NC.
Swiftwater Rescue Technician I August 2018 Class Photos
Several of our friends from Union County  & Madison County Georgia joined us along the banks of the Nantahala, River to complete their SRT I course.
2018 Inflatable Rescue Boat (IRB)
Guide School Class Photos
In October, we offered our annual IRB  Guide School over a 3-day format to several responders from across the Southeastern, US. Students learn the basics of operating rafts in variety of rapids and  how to perform boat based rescues, as well as, boat pin scenarios.
Valleytown Fire & Rescue Confined Space Rescue Technician
Throughout 2018, members of the Valleytown Fire & Rescue and others from surrounding jurisdictions completed over 64 hours of Confined Space Rescue Technician training.
Valleytown Fire & Rescue Trench Rescue Technician
In addition to their confined Space Rescue training, Valleytown Fire & Rescue also completed the entire Trench Rescue Technician training that also allowed them to become a certified Trench and Confined Space Heavy Rescue provider with the NC Rescue Squads & EMS Association.
Flow Path Management Cherokee Co., NC
Tri-County Community College hosted our 3-day Flow Path Management Training Experience course to firefighters throughout Western, NC in Cherokee & Clay counties. This course was comprised of 8 hours of fire physics lecture followed by hand's-on small-scale model house burns and a fuel package demonstration, followed by an acquired structure burn with the Murphy Fire Department's Engine Operations class.
We serve as a RSQ3 International Preferred Provider for America's Leading Technical Rescue Training Programs.

Swiftwater & Flood Rescue

Technical Rope Rescue

Confined Space Rescue

Tower Rescue

Industrial Safety & Rescue

Public Safety Professionals

Military Special Operations

Recreational Rappelling Operations

Tower Rescue For the Professional

Industrial Confined Space Rescue

We specialize in NCOSFM Firefighter & Technical Rescue Certification Course, as well as, other specialty classes.
Firefighter Certification

Technical Rescuer Certification

Water Rescue

Trench Rescue

Rope Rescue

Confined Space Rescue

Vehicle & Machinery Extrication

Wilderness Rescue

Live Structural Fire Training

National Fire Academy
Our Rescue Specialist Training Series are scenario-based courses train certified rescuers "Beyond the Technician Level".
Swiftwater Rescue Guide School

Wilderness Rigging & Rescue

POD School (Artificial High Directional)

Advance Bus & Big Rig Extrication

Advanced Vehicle Rescue

Industrial Rope & Confined Space 

Technical Rescue Night Operations

Challenge Tower & Zip-line Rescue

Aerial Ladder Rigging
All photos, videos, and other material contained within this website are the sole proprietary of Rescue North Carolina LLC. and copyright protected and therefore unlawful to use, copy, display or share without written consent of the owner. 
"Tell me and I forget, teach me and I may remember, involve me and I learn."