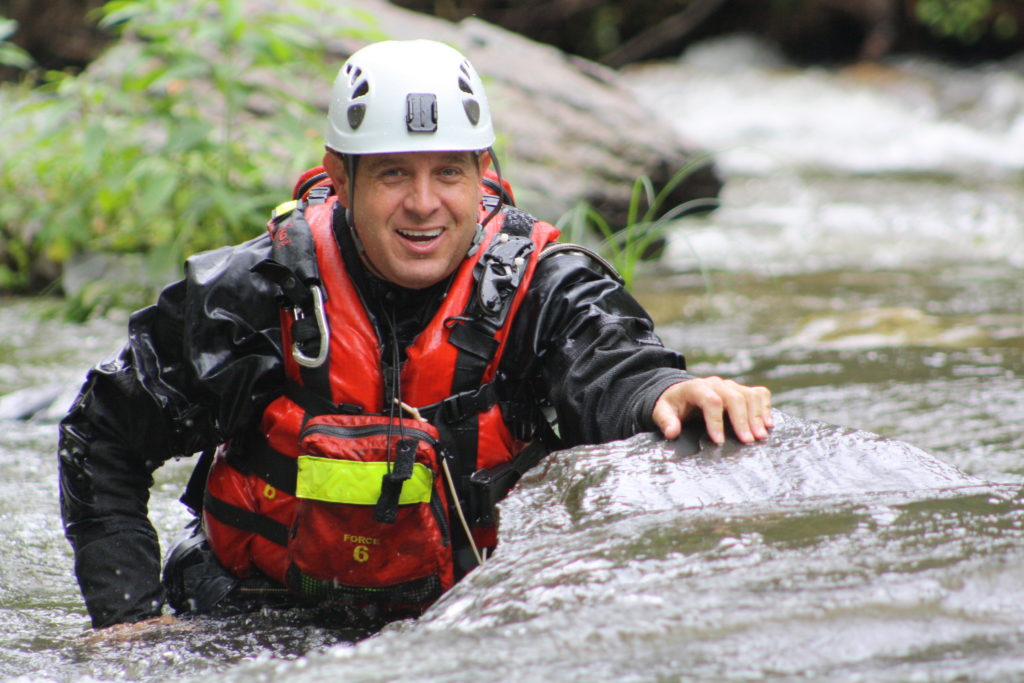 Trey Smith has served within the fire & technical rescue industry for over 40 years and is the Owner of Rescue North Carolina; Special Rescue Operations Training. Trey has worked full time with the Charlotte Fire Department (NC) since 1987 where he has served at the rank of Captain for 28 years. Capt. Smith has a very diverse and vast training experience and certification within every aspect of technical rescue where he delivers over 40+ Fire & Rescue Technician Level courses for the North Carolina Office of the State Fire Marshall.
Trey's company, Rescue North Carolina LLC. was established in 1994 and was a Preferred Training Provider for Rescue 3 International until he retired from Rescue 3.
He has also taught with affiliates such as Fire & Rescue Concepts. As an avid outdoor enthusiast, he has worked as a raft guide and canopy tour guide and a Boy Scout leader for over 20 years. Capt. Smith also serves with the North Carolina USAR Task Force #3 and has developed several custom courses to mimic USAR Flood Rescue problems including a Swiftwater Rescue Guide School and his signature Swiftwater Rescue Night Operations course. Trey has an extensive rope rescue background where he delivers his industrial & wilderness rope rescue, as well as, his custom Artificial High Directional (POD School) course throughout Western, NC. He also delivers several confined space rescue, haz-mat, trench rescue, industrial fire & rescue programs for industry rescuer professionals, as well.
Since 1994, Trey has provided training to over 6000 of the world's bravest responders and military special operations teams. His philosophy of instruction is to train students within the environment they are expect to perform. This is evident in his scenario-based courses where he provides graduates from Technician-level courses with realistic training under simulated deployment-style training formats.
Total Years in Emergency Services: 41 Years
Current Professional;• Captain; Charlotte Fire Department (NC); 36 Years
Current Profession Part-Time ;• Business Owner & Lead Instructor; Rescue North Carolina LLC. Special Rescue Operations Training; 30 Years
Professional Credentials:
▪ Instructor; North Carolina State Fire & Technical Rescue Instructor
▪ Instructor; Rescue 3 International (Retired)
▪ Instructor; Fire & Rescue Concepts
Volunteer Fire & Rescue Service Experience:
• 20 Years
• Idlewild VFD; /Carmel VFD; /Charlotte Life Saving Crew; /Valleytown Fire Dept.
• Member NC Urban Search & Rescue Task Force #3

Higher Education Experience:
• A.A.S. Fire Protection & Technology Central Piedmont Community College
• B.S. Fire Science; University of Maryland University College
• Certificate; Fire Service Administration
• Graduated Summa Cum Laude; GPA 4.0
• Member National Honor Society Phi Kappa Phi
Volunteer Scouting Experience:
• 21 Years
• Charlotte Fire Dept. Explorer Post; Scout & Post Advisor
• Boy Scouts of America
o Asst. Scout Master
o Wood Badge
Outdoor Recreational Experience:
• Raft Guide School Certification; Nantahala Outdoor Center & USNWC
• Raft & Kayak Guide
o US National Whitewater Center (USNWC)
o Camp Canaan Outdoor
• Canopy & Zip Line & High Ropes Guide
o USNWC
o Camp Canaan Outdoor
Other Credentials:
• Medical:
o Nationally Registered EMT
o Basic Trauma & Life Support Instructor
• Fire & Technical Rescue Certifications & Qualifications
o Rescue 3 International Certifications & Instructor Qualifications (Retired)
▪ Swiftwater & Flood Rescue Technician Instructor
+Swiftwater & Flood Rescue Technician Advanced Instructor
▪ Swiftwater & Flood Rescue Boat Operator
▪ Technical Rope Rescue Technician Instructor
▪ Confined Space Rescue Technician Instructor
▪ Industrial Rope Rescue Instructor
▪ Tower Rescue Instructor
▪ Recreational Rappel Operations Instructor
o North Carolina Office of the State Fire Marshall Certifications
(All courses areAll courses are NFPA 1006;NFPA 1006; IFSACIFSAC;; or Pro Board Compliantor Pro Board Compliant)
o OSFM Firefighter
o OSFM Rescue Technician/Technical Rescuer
o OSFM Trench Rescue Specialist/Technician
o OSFM Confined Space Specialist/ Technician
o OSFM Structural Collapse USAR Rescue Technician
o OSFM Rescue Systems I
o OSFM Rope Rescue Technician
o OSFM Large Animal Rescue Technician
o OSFM Agricultural Rescue Technician
o OSFM TR Water Rescue
o OSFM Tower Rescue Technician
o OSFM Agriculture Rescue Technician
o OSFM Emergency Vehicle Driver
o NFPA Level I, II , III Fire Officer
o NFPA Level II Fire & Rescue Instructor
o OSFM Haz-Mat Level I & II (Technician Level)
o NCOSFM Instructor Qualifications (All courses are IFSAC or Pro Board Compliant)
▪ Level II Fire Instructor
▪ NFPA 1403 Live Fire Training Instructor
▪ Basic & Advanced Rescue Technician Instructor
▪ NFPA 1006 Confined Space Technician Instructor
▪ NFPA 1006 Trench Rescue Specialist / Technician Instructor
▪ NFPA 1006 Technical Rope Rescue Technician Instructor
▪ NFPA 1006/1670 Technical Rescuer Instructor
▪ NFPA 1006/1670 Technical Rescuer/ Water Rescue Instructor
▪ OSFM 1006/ 1670 Tower Rescue
▪ USFA/ National Fire Academy Decision Making for Initial Company Operations Instructor
▪ USFA/ National Fire Academy Strategy and Tactics for Initial Company Operations Instructor
North Carolina Mountain Search & Rescue Technician