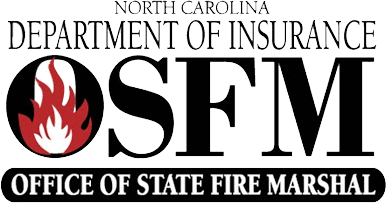 We offer a wide variety of firefighter and technical rescue courses that are NFPA compliant and Internationally accredited (IFSAC & Pro-Board) via the NC State Fire Marshall's Office. In order to receive fee exemption for these courses, students must be an active member of a rescue squad or fire department within N.C.
North Carolina State Fire Marshall's Office Courses &
Study Guides
Our North Carolina Office of the State Fire Marshall courses are delivered either as a "Series or Block" or can be delivered as individual courses. All NCOSFM courses are accredited programs with the International Fire Service Accreditation Congress (IFSAC) or Pro BOard Fire service Professional Qualification Systems. All course are also compliant with related National Fire Protection Association (NFPA) and Occupational Safety Health Administration (OSHA) standards.  What this means to you are the safest and highest quality instruction that students may utilized certifications throughout the international and military fire & rescue service.
For North Carolina fire & rescue responders
: All courses are free (fee exempt)
Out of State Students
: There is a fee for certification. 
Click Here to Download NC OSFM Lesson Plans & Study Guides
Technical Rescuer Certification
| COURSE ID | COURSE TITLE | RECOMMENDED HOURS |
| --- | --- | --- |
| FIP-6501 | TR Rescue Operations | 12 |
| FIP-6502 | TR Anchors & Mechanical Advantage Systems | 15 |
| FIP-6503 | TR Fixed Rope Systems | 12 |
| FIP-6504 | TR Health and Wellness | 8 |
| FIP-6505 | TR Helicopter Transport | 6 |
| FIP-6506 | TR Horizontal Systems | 12 |
| FIP-6507 | TR Lowers & Raises | 12 |
| FIP-6508 | TR Personal Protective Equipment | 9 |
| FIP-6509 | TR Rescue Equipment | 6 |
| FIP-6510 | TR Rope Basics | 12 |
| FIP-6511 | TR Victim Management | 16 |
| FIP-6500 | TR Technical Rescuer Block | 120 |
Vehicle Rescue Technician
| COURSE ID | COURSE TITLE | RECOMMENDED HOURS |
| --- | --- | --- |
| FIP-5711 | TR Vehicle – Rescue Ops/Vehicle Rescue | 9 |
| FIP-5712 | TR Vehicle – Vehicle Anatomy/New Technology | 9 |
| FIP-5713 | TR Vehicle – Stabilization/Extrication | 12 |
| FIP-5714 | TR Vehicle – Large Vehicle Rescue | 6 |
| FIP-5715 | TR Vehicle – Victim Management | 12 |
| FIP-5710 | TR Vehicle Block | 48 |
Water Rescue Technician
| COURSE NAME | FIP # | Hours |
| --- | --- | --- |
| TR – Water Rescue Operations | 6405 | 6 |
| TR – Water Rescue Techniques | 6406 | 18 |
| TR – Water Rescue Transportation | 6407 | 15 |
| TR – Water Rescue Victim Management | 6408 | 9 |
| TR Water (Series) | 6404 | 48 |
Trench Rescue Technician
| COURSE NAME | FIP # | Hours |
| --- | --- | --- |
| TR – TR Rescue Operations | 6101 | 9 |
| TR – TR Rigging | 6102 | 21 |
| TR – TR Protective Systems | 6103 | 21 |
| TR – TR Load Stabilization | 6104 | 4 |
| TR – TR Victim Management | 6105 | 9 |
| TR: Trench (Series) | 6100 | 64 |
Confined Space Rescue Technician
| COURSE NAME | FIP # | Hours |
| --- | --- | --- |
| TR – CS Rescue Operations | 5901 | 9 |
| TR – CS Rescue Rigging | 5902 | 21 |
| TR – CS Hazard Control | 5903 | 25 |
| TR – CS Victim Management | 5904 | 9 |
| TR Confined Space (Series) | 5900 | 64 |
Firefighter Certification Courses
| COURSE ID | COURSE TITLE | RECOMMENDED HOURS |
| --- | --- | --- |
| FIP-3001 | Orientation & Safety | 16 |
| FIP-3003 | Alarms & Communications | 16 |
| FIP-3004 | Fire Behavior | 12 |
| FIP-3005 | Portable Extinguishers | 8 |
| FIP-3006 | Personal Protective Equipment | 20 |
| FIP-3007 | Forcible Entry | 12 |
| FIP-3008 | Ventilation | 20 |
| FIP-3009 | Ropes | 12 |
| FIP-3010 | Ladders | 16 |
| FIP-3011 | Fire Hose, Streams, and Appliances | 20 |
| FIP-3012 | Foam Fire Streams | 8 |
| FIP-3013 | Fire Control | 36 |
| FIP-3014 | Loss Control | 16 |
| FIP-3016 | Emergency Medical Care | 12 |
| FIP-3017 | Rescue | 20 |
| FIP-3018 | Water Supplies | 20 |
| FIP-3019 | Sprinklers | 16 |
| FIP-3021 | Fire & Life Safety Preparedness | 12 |
| FIP-3022 | Building Construction | 16 |
| FIP-3024 | Health & Wellness | 8 |
| FIP-3025 | Safety & Survival | 16 |
| FIP-3026 | Mayday | 8 |